What is Ally?
Ally is a tool that works with Blackboard to help instructors identify accessibility issues and help to fix content to make it as accessible as possible.
Click here to see a brief overview of Ally's basic features.
What does Ally do?
Ally helps instructors in three distinct ways:
It helps instructors assess how accessible their content is.
Ally makes recommendations on how to fix documents to make them more accessible.
It automatically generates alternative formats of documents that students can access.
Ally does not make changes to your files on its own.
What are the benefits of using Ally?
Making content more accessible can benefit a wide variety of people, including:
Students with visible disabilities
Students with invisible disabilities
Students with temporary disabilities
Students with English as a second language
First generation students
Students that need to frequently travel (such as student athletes)
Non-traditional students
Students using a mobile device
I do not believe there are any students in my class with disabilities. Do I still need to make files accessible?
Absolutely.
While some accommodations can be made on the basis of request (such as in testing), online file accessibility needs to be done globally.
Is Ally enabled in my class? How would I know?
Ally will be enabled at Truman for all courses in January 2022. However, Ally can be enabled for classes in Fall 2021 at specific requests. Also, anyone who has attended one of our Ally introductory workshops should have Ally enabled for Fall 2021 courses in which they are the sole instructor.
The easiest way to see if Ally is enabled in your course is to look at the content in the course. If Ally is indeed enabled, you will see the Accessibility Score speedometer (which may be Red, Yellow, Light Green, or Dark Green) and the Alternative Format "A" symbol next to each content piece.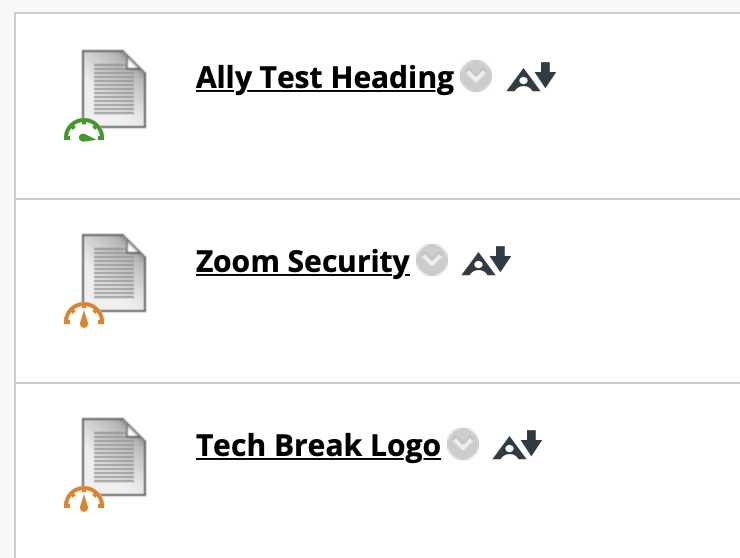 If Ally is enabled in your course, then your students can also access the alternative formats of your content. Please feel free to let them know that these options exist, but do so in a general and non-targeted manner.
What's the first step in making my content accessible?
Making all of your digital content accessible might seem like a daunting task, but keep in mind that accessibility is a journey, not a destination. You are definitely not expected to be completely compliant overnight, and any progress is a massive step forward.
We suggest you start with your syllabus. Even if there are multiple issues in it that need to be resolved, try just adding alt text to a few images to get started.
Ally can walk you through other fixes when you're ready. Additionally, you can check out some of our video tutorials, and please reach out the the Learning Technologies Team if you have questions.
Who can see a piece of content's accessibility score?
Accessibility scores are only visible to instructors in an Ally course- however, it can be useful to be mindful of this when in situations in which you might be sharing your screen (such as when logging into Blackboard during class).
You can find more information on Accessibility Scores here.
Ally has flagged a piece of content as "Potentially Harmful. What's that about?
Some content might be flagged as "potentially harmful" in Ally. One example of this might be a .gif that includes flashing images that could be dangerous to someone prone to seizures.
Ally suggests removing this content and replacing it with something that does not run the same risks. Read more about this issue in Blackboard's documentation.
How can I see all the suggested fixes for a document, rather than viewing them one by one?
By default, Ally helps you tackle issues one at a time. However, in some cases you may prefer to see all of the issues at the same time. Check out this documentation to see how to view all issues and resolve them in the order you prefer.
I know that Ally can score a document, but can I see an overall score for one of my courses?
Yes, Ally does allow you to see an overall score of your course via the Accessibility Report. Please check out this documentation to see how to enable and use this feature.
How can I create accessible content without Ally?
Remember that Ally is a tool that helps you assess your course's accessibility and identify issues to be fixed. As you use Ally to fix your files, you're likely to recognize your own patterns and ways that you can adjust the creation of your files before issues are even picked up by Ally in the future.
Here are some common tips to help make sure your content is as accessible as possible right off the bat:
Use a font size of at least 12 px
Ensure there is sufficient contrast between text and background
Ensure proper heading styles are used
Ensure a logical heading structure is used
Check that images have appropriate alt text
Use tables for tabular data only
Ensure tables have column headings
Make sure all lists use built-in functionality
Make sure all links have text that describe target
Use built-in PowerPoint slide templates
Do not use scanned PDFs
Ensure PDFs are tagged
Can Ally be used for files that are on my own website, YouTube channel, or other place online?
Currently, Ally can only be used with files on our Truman State Blackboard LMS.
Who can I contact for assistance with Ally?
Learning Technologies Team Office
(660) 785-7750
LTT Instructional Technologist
Thomas Fitzler
(660) 785-7007