In addition to providing a platform for real-time meetings (videoconferences), Zoom can be used to record class sessions (lecture capture), meetings, or even no-audience screencasts and presentations. Used in this way, Zoom really shows its versatility to meet a wide variety of eLearning content production needs.
When using the "Record" feature, the host has some important options to make about where to store the video files:  the Zoom Cloud or the local computer.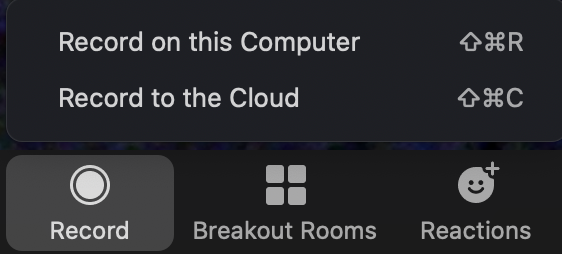 Cloud recording is the best option for content that will be used as eLearning material due to a helpful feature that generates machine transcription/captioning. Note that because this is machine transcription (AI), you must edit the text for accuracy. It is also recommended that recordings are downloaded and removed regularly from the 1GB Zoom Cloud and moved to the unlimited Truman provisioned Youtube channel or Google drive space. See detailed information on Cloud Recording.
Local recording allows users to record meeting to the local computer. The recorded files can be uploaded to a file storage service like Google Drive, or a streaming service like YouTube later – keeping in mind, permissions will need to be set appropriately if you wish to share these files. Note, there is no option to do the auto-transcription when using Local recording. Please visit Zoom website for the detailed features of local recording.